National Cyber Security Coordination and Development Centre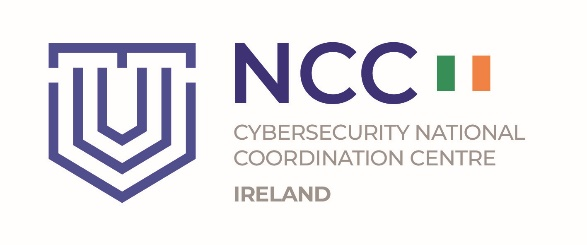 Background
Regulation (EU) 2021/887 establishing the European Cybersecurity Industrial, Technology and Research Competence Centre and the Network of National Coordination Centres entered into force on 28 June 2021. The purpose of the Centre and supporting National Coordination Centres (NCCs) is to facilitate the pooling of resources for public funding of cybersecurity research, innovation, industrial development and infrastructure by indigenous European Union (EU) enterprises and research interests. It is also intended to provide supports for cybersecurity resilience measures, encompassing increased investment in cybersecurity preparedness and compliance with EU legislation on cybersecurity. Funding is to be drawn from the EU programmes Digital Europe and Horizon Europe.
On 28 June 2022, the National Cyber Security Centre (NCSC) was assigned the NCC function under the Regulation. The NCSC's Capacity Building Unit will undertake the NCC role by setting up the National Cyber Security Coordination and Development Centre.
Role
In summary the National Cyber Security Coordination and Development Centre has three distinct roles, namely:
contribution to policy and strategy formulation on cybersecurity funding supports, including national gatekeeper of the EU Cybersecurity Competence Community;

outreach to industry, academia and other societal stakeholders in regard to awareness and promotion of EU funding supports and associated networking opportunities, and;

distribution of small amounts of EU and matching national funds to small and medium sized enterprises (SME) to strengthen the uptake of state of the art cybersecurity solutions.

The Centre will allow Irish firms, third level institutions and public bodies to fully seize new investment opportunities from the EU for enhanced cybersecurity resilience and innovation.
EU Cybersecurity Governance Arrangements

The European Cybersecurity Industrial, Technology and Research Competence Centre is being established and will be located in Bucharest, Romania. This EU Centre, assisted by the Network of National Centres, including the National Cyber Security Coordination and Development Centre, is to make strategic investment decisions and pool resources from the EU, its Member States and, indirectly, the industry to improve and strengthen technology and industrial cybersecurity capacities. The EU Regulation also provides for a formalised Cybersecurity Competence Community. This EU Community is to consist of industry, including SMEs, academic and research organisations, other civil society organisations, public bodies and stakeholders that have an interest in cybersecurity and that face cybersecurity challenges.
If you are established in Ireland and wish to express interest in joining the EU Cybersecurity Competence Community, please see the Community membership and registration guidelines and then contact ncc-ncsc@decc.gov.ie .
Funding Opportunities
The Digital Europe Programme provides for very significant investments of EU public funds in cybersecurity projects. Details of the forthcoming calls for proposals on cybersecurity are available on the EU Commission's Funding and Tender Opportunities Portal.
The NCSC, with the cooperation of Enterprise Ireland, is organising a webinar titled "EU Cybersecurity Research, Innovation & Deployment: Networking & Investment Opportunities for Stakeholders in Ireland" for 2.30pm on Wednesday 14 June 2023.
Please register in advance for this webinar at https://us02web.zoom.us/webinar/register/WN_5Vv2BXOZSjak1OH5m1ucnQ
where further details are available.
Please contact ncc-ncsc@decc.gov.ie if you have any outstanding queries.